About Us
Born from a quest and need to help the professional networks. Interactive Media is about providing knowledge-driven platforms in the form of niche communities to Finance, Tax, Accounting, Legal and Management professionals in India. We help 5 million+ professionals by providing them complete knowledge ecosystem with articles, news, Q&A forums, content files and dedicated services like e-learning, job listings, event listings, online certification courses and much more.
Our Vision
Our Vision is to create the largest niche knowledge-sharing communities for professionals in the country and to create a bridge between the people looking for assistance and the professionals who can help them.
Our Mission
Knowledge is power and its power increases manifold if it is shared and distributed and our mission is to help professionals and masses by creating knowledge networks of tax, finance, accounting, legal and management fraternities by leveraging tech-based interactive platforms.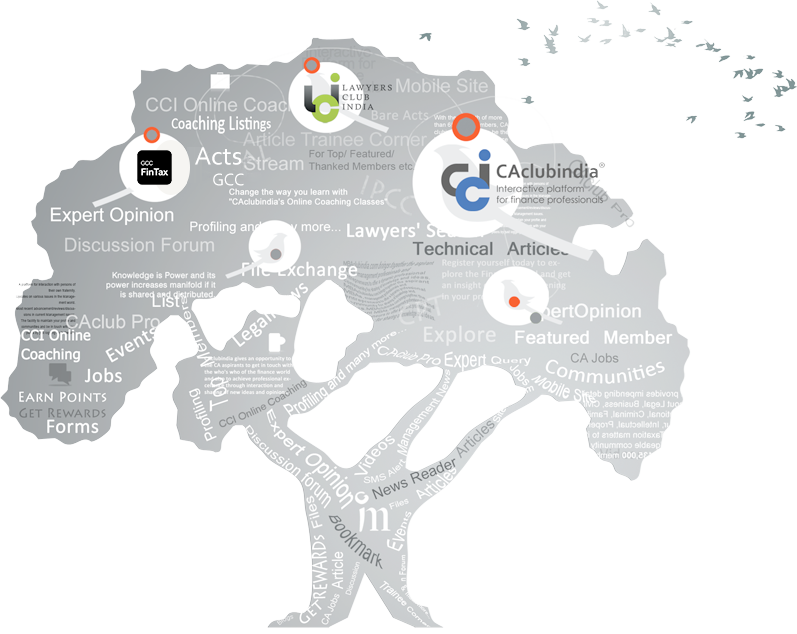 Connecting Millions of Professionals
Our Communities
At the core of the internet, there are two central yearnings: the ability to navigate through information and the ability to connect with other people..
Our communities provide both
An Interactive Platform for Tax,
Accounting and Finance Professionals & Taxpayers. With a Member Base of more than 3 million and counting, CAclubindia boasts of being the top-notch resource site for professionals, Taxpayers and Students alike.
go to site
---
An Interactive Platform for Lawyers & Indian Public.
With more than 8 lakh+ Legal Professionals, Litigants and Students Inclusive, Lawyersclubindia provides the legal community and the general public, platform to connect and engage with each other.
go to site
---

GCC FinTax is an interactive knowledge sharing platform
for Tax, Accounting and Finance professionals for Gulf Countries. Bringing together the community, FinTax caters to providing resources and knowledge base with quality articles, news, and engaging forum discussions.
go to site
---